Date/Time
Date(s) - 08/29/2018
7:00 pm - 8:00 pm ET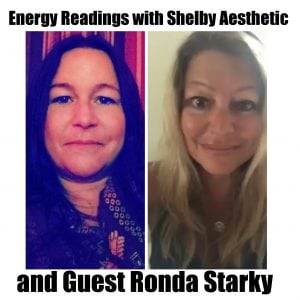 What are the elements, why are they important and how can we balance them to become the best version of ourselves? Join us LIVE August 29th at 7-8pm EST with guest Ronda Starky to discuss this fascinating topic. Ronda is an amazing clairvoyant who's empathy can be felt the moment she connects with you. Ronda naturally emits love and humility to create an epic experience of spiritual embracement every time she shares. Following her own intuition and higher guidance has enabled her to reach balances in life that have enriched and fulfilled her heart. For this show she will be bringing her experiences and strength to the community for an evening of learning and discussion. Please join us in the chatroom or by calling in to the show.
To learn more about Ronda and her gifts visit her on Facebook
Category(ies)
Recent Listeners
shelbyaesthetic
jared
delph
supernaturalradio
geminimoon
slbeck
jeannettebeynon
carywhisper
kathleen
mediumreneerichards
diane-brighton
christy-wilkinson
jackie-nap
jennysatori
spiritually-happy